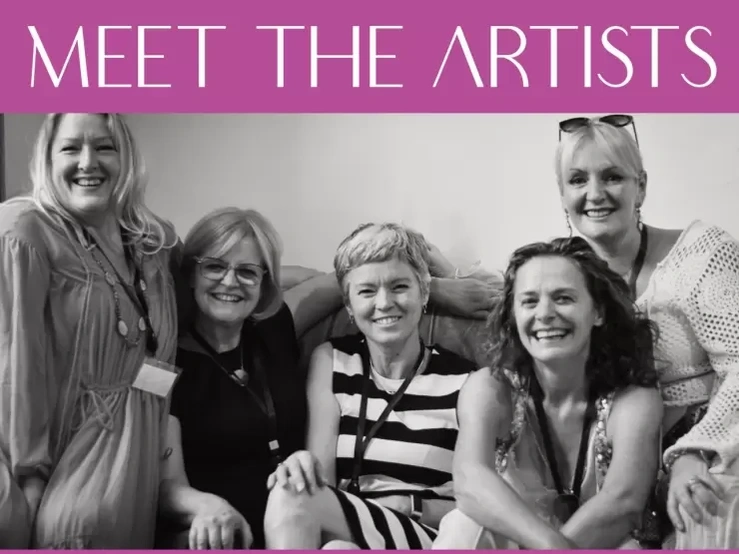 On Sunday 13th June the five members of the Quinta Art Collective will be presenting an all day event "Meet the Artists & Live Art session" at the Re-Criativa República 14 in the seaside town of Olhão. They will meet the public and demonstrate a little of what they do, revealing tips and tricks as they paint, draw and weave their way through a live art session.
You may have already heard of the Quinta Art Collective since they made their mark on the Algarve last summer.
In 2020 five artists came together, inspired by member Andrea Bird, who realised that if they joined forces professionally, the five friends could make an impact on the Algarve art scene.
Painter Jessica Dunn, sculptor Toin Adams, portrait artist Tracy Carson, contemporary mosaic artist Andrea M Bird and fibre artist Jane Rodenburg each create artworks in their own medium and unique style and have found this collaboration to be extremely rewarding.
As they put it "Working as an artist is a rather solitary occupation so meeting up regularly to discuss projects and support each other gives us all a boost. Much wine is drunk and big plans are made!"
Their first goal came to fruition in August 2020 with their inaugural exhibition at the Vale do Lobo Gallery, Aderita Artistic Space and their appearance on Channel Four´s "A New Life in The Sun".
In the spring of 2021 the world opened up and they jumped right in with a new exhibition of brand new work at the newly renovated art centre Re-Creativa República 14 .
In this current exhibition, which runs until 20 June, their diverse creations contrast yet complement one another sitting juxtaposed throughout the expanse of this beautiful historic building, each section carefully curated to allow each artist to shine.

Larger pieces such as "Big Blue," an abstract oil painting in mesmerising blues by Jessica Dunn and "Rock Face", Jane Rodenburg´s largest and most impressive weaved piece, are just two of the many artworks which hang in the main salon, where live concerts are held. Captivated by the glistening colourful mosaics such as Verklemt by Andrea M Bird and a wall covered in wonderful portraiture by Tracy Carson highlighted by "Girl with a Butterfly Tattoo", you are then led through by Toin Adams´ nude drawings to one of her incredible steel sculptures, Chameleon, which stands on the outdoor terrace. Smaller pieces hang in the halls and adorn the walls of the in-house restaurant Ficus - Café Concerto where diners can take in the art whilst having their meal.
On Sunday 13 June the artists will set up their materials and begin the demonstration at 11am, there will be a break for lunch, followed by more socialising and live art throughout the afternoon. Tapas and drinks will be served on the terrace.
The public can drop in at anytime between 11am and 7pm to enjoy a relaxed and enjoyable day.
All artwork is for sale in a wide range of prices.
*Why not make a day of it and catch the train to Olhão to experience the wonderful market too?

For more info:
Tel: + 351 962544650
E-mail: hello@quintaartcollective.com
Website : www.quintaartcollective.com
Instagram: @quintaartcollective
Facebook: quintaartcollective